Bridal Lash Extensions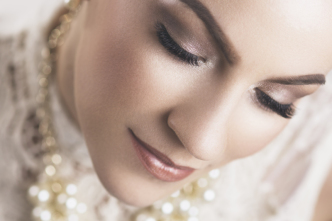 Every Bride must have Lash Extensions done for her big day.
To reduce the stress and not have any surprises, there are few things you have to know:
*** If you plan your wedding a few months in advance, take 3-4 months before the special occasion and try them out! You will avoid disappointment, you will know what to expect and there is plenty of time to improve the look of lash extensions.
***If your make up artist suggests lash extensions and there is only month until your wedding, don't panic! Shedule your appointment as soon as possible. Then book a full set again 3 -5 days before wedding . Don't forget to take a photo of your trial make up, that will help a lot.
***Don't plan to have any facial treatment after the lashes are done! Beauticians can destroy them by putting some oil or using a hot steamer.
***Very important... patch test might not show any reaction but we highly recommend to do one anyway and full set must be done once before to make sure you are not allergic to the glue.
bridal lashes galway, wedding galway, wedding lashes galway, make up galway, lash studio, lashes , Galway, lashes galway, extensions Galway, lash bar galway, lash training galway, lash training ireland, lash stylist galway, lash extensions galway, lashes ireland,lash training ireland, mink lashes, lash course ireland, lash course galway, lash training, lash trainer, mink lashes galway,wedding lashes galway, wedding lashes ireland, bbglow, bbglow ireland, bbglow galway, semipermanent foundation galway, henna brow, henna brow galway, henna brow ireland, brow galway, tint galway, browbar galway,bbglow ireland, bbglow, bbglow galway, spray tan galway, tanning studio galway, tan galway, bellamianta galway,