About Us
We have changed our location to:
Unit 27 Terryland House
Terryland Retail Centre
(the door on the left side of Terryland Fruit and Veg Shop, go upstairs and we are at the end of the hallway)
To book an appointment please visit:
www.lashluvbym.simplybook.it
IMPORTANT
If you would like to make an appointment
please text
085 248 7390 or visit our online booking system
as we are busy with the customers and can not pick the calls up.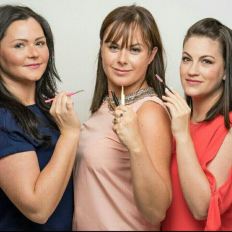 Monika -trainer
IT Specialist who discovered her passion for Lash Extensions nearly 7 years ago.
Her first training was done with the Nouveau Lashes Company in March 2010. Since then she is improving her skills all the time. In September 2013 she got training in a revolutionary new technique of lash extensions which allows you to get up to 6 times more volume. These extensions are called Russian Volume Lash Extensions. In April 2014 she started to cooperate with a polish company as fully certified Lash Trainer. In September 2014 she traveled to London to improve her skills with Russian Volume Lash extensions with well know in Lash world trainer Loreta Jasilionyte. She went to London again to be trained by Hanna Putjato, Nelly Soimina, Ina Adamovich other great and well known lash trainers. She is always up to date with new trends and constantly upgrades her technique. She was in Prague in September 2015 and 2016 in League of Lashmasters Conference.Took part of Lash Conference in Warsaw in 2016. Now proud owner of DeviLash brand Lashes and her own Lash Training Studio in Galway.
I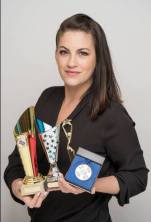 Eszter-senior stylist
Teacher whose passion is Make up and Lash extensions. Eszter is trained by School of Make-up Artistry in Galway. She is also fully qualified in both Classic and Volume Lash Extensions. She won 1st place in Lash Battle Photo Contest in London in 2015 and 2016. She won 3rd place in Cosmetica Lashstar competition in Berlin.She was the winner of a Special Bonus prize in online photo contest LASH ART 2016 and first place winner of The Scottish Lash Conference Photographic Contest. In October 2015 she traveled to London to be part of HyperVolume 15D training with Polina Glebanova. In January 2017 she updated her Mega Volume Skills with Daria Ziolkowska.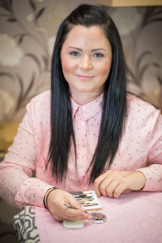 Dorothy - senior stylist
Joined our team in May 2016. Already trained by Elena Stakhovich. Our talented stylist constantly improves her skills. In January 2017 she updated her Mega Volume technique with Daria Ziolkowska. In April she was trained by one of the best known companies from the UK London Lash.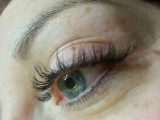 Testimonials:
***
Very good quality lashes and service;)Make a defect into effect!!!!!!;)))))
***
I think Monika is an absolute genius when it comes to lashes. She has been doing them for me for over two years and I couldn't be happier! They are so natural to the touch and look. I have fabulous long lashes and it's all thanks to Monikas skill and attention to detail. I couldn't recommend her highly enough! Hun, you make your work with great passion and the result is obvious.. Thank you xx
***
Wouldn't go anywhere else in Galway...Worth every penny!!!
***
Great quality lashes!!!and Monika defiantly the best in Galway when it comes to make us look beautiful:)))!!!always pleasure to see her..:))))
***
Best lash extensions by far! Extremely professional & talented lady! Highly recommend Monika! Never leave her salon disappointed xx
***
Brilliant. From a top class professional, Monika, to the finish product of fabulous lashes. It might be an expensive luxury but they are so worth it. I absolutely love getting my 2D lashes and wouldn't go anywhere else.
***
Love getting my lashes done here so natural and absolutely fabolous look.cant wait to get them done again after my new baby comes along.
***
Lashes are fabulous would highly recommend them for causal wear everyday and brides a must have..... Had them before with another Beautican but Monika's are natural lash great quality;))))) Keep going back......
***
Monika rocks - She is such a pro at what she does - Love getting my lashes done with her - So natural, yet always get that achieved look of wearing a really good mascara ..It's all about the quality ..
***
Amazing lashes! Have been to a few different salons, some good some bad, but this place is tops! Definitely recommend it.
***
Monika from the moment I walked into the salon it has been a pleasure. A warm cozy inviting environment. I had been a lash addict for many year applying myself as I trained in beauty,but never had I had semi lashes done I was intrigued as to what they would be like! Wow I was happy not only did I got a lovely afternoon nap but I woke to having beautiful lashes, natural and so pretty! Monika is so professional, yet so friendly with a true gift for her profession. I love my lashes and would not go without them now,they last weeks, are easy to look after with her home care advice and I enjoy my trips to get my refills.
If you have yet to try them please do they are a must have to flutter your way through the day!! ;)
***
I have had my lashes done with Monica a few times,and I have always been delighted with the results, they are nice and glamorous for my line of work and I always get loads of compliments about my lashes! Not only is she a professional but she is also such a friendly and lovely woman! Defintely would recommend! X
***
Beautiful lashes on a budget!! Amazing natural looking long lashes, made me feel fabulous for over a month, even with no makeup on :) Tried them for a trial for my wedding and am addicted. Monika is a dote and ultra professional, love my lashes!!!
***
A fantastic professional service, I love getting my lashes done with Monika. They look amazing and are so comfortable and natural and last so long. I would never trust anyone else with my lashes!! Thank you Monika :-)
***
Amazing! Got my lashes done for my wedding last summer & was thrilled with the result. It does take a while, but the results are well worth it. Can't wait to have them done again. Thanks :)
***
Amazing. The best lash technician you can find not only in Galway but in Ireland. So professional and an enjoyable experience! Thank you Monika. I cannot recommend Monika's Lashes enough.
***
more on https://lashluvbym.simplybook.it/v2/#reviews
Be our other happy customer :)
Grab the phone and Text 085 248 7390!!!

bridal lashes galway, wedding galway, wedding lashes galway, make up galway, lash studio, lashes , Galway, lashes galway, extensions Galway, lash bar galway, lash training galway, lash training ireland, lash stylist galway, lash extensions galway, lashes ireland,lash training ireland, mink lashes, lash course ireland, lash course galway, lash training, lash trainer, mink lashes galway,wedding lashes galway, wedding lashes ireland, bbglow, bbglow ireland, bbglow galway, semipermanent foundation galway, henna brow, henna brow galway, henna brow ireland, brow galway, tint galway, browbar galway,